I have finished several books recently toward the
Read Harder Challenge
. Here are mini-reviews:
The Thrilling Adventures of Lovelace and Babbage: The (Mostly) True Story of the First Computer
by
Sydney Padua
My rating:
2 of 5 stars
This is my
"graphic novel"
for the challenge. The images of the machine Babbage envisioned were wonderful and there was a lot of interesting information about both of these historical figures, but I found the "adventures" silly and there were so many footnotes it was hard to read the book. There were also 'endnotes' which worked well as sections of text between the graphic sections.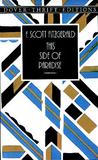 This Side of Paradise
by
F. Scott Fitzgerald
My rating:
3 of 5 stars
This was Fiszgerald's first novel and it wasn't as good as Gatsby, but I could definitely see indications of the brilliance that was to come. I am counting this as my
"book written by someone before they were 25"

One More Thing: Stories and Other Stories
by
B.J. Novak
My rating:
3 of 5 stars
The first story in this collection was great -- about the Tortoise and the Hare. After that I liked some and I thought some were lame. A few were really observations rather than fully-formed stories. I listened to this on audio book and liked the way the author read his own stories, in some cases with a few additional narrators helping out. This counts as my
"collection of stories."
I have several books left to go for this and only a few weeks left in the year. I may give myself an extension (to March 31, 2016) to complete this challenge. Still to read:
A collection of poetry

A National Book Award, Man Booker Prize or Pulitzer Prize winner from the last decade

A book by an author from Africa

A book published before 1850