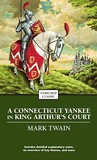 A Connecticut Yankee in King Arthur's Court
by
Mark Twain
My rating:
3 of 5 stars
During 2015 planned a
King Arthur reading project
and this novel wrapped that up for me. The shift of perspective, a 19th century man observing the middle ages, was interesting and this book is significant for being considered the first time-travel novel. I found Twain's writing a bit of a slog in several parts, especially the beginning of the novel, once the action picks up--this is largely an adventure story after all--it was easier going.