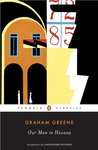 Our Man in Havana
by
Graham Greene
My rating:
4 of 5 stars
"Until now the mistake had seemed to Wormold fairly simple to deal with. But now it was as though he had tugged a stray piece of cotton and a whole suit had begun to unwind." (p. 137)
The question of what is real and what is imaginary and whether the difference matters is at the heart of this novel which tells the story of a vacuum cleaner salesman, Wormold, turned British agent set in pre-Castro Cuba. The story is told from Wormold's point of view, which allows the reader to be see how he gets into the position he does by maintaining a belief that things can't really be as they seem, eventually someone will see how absurd it all is and put a stop to it. There are "interludes" where we see what is happening in London and realize that it is actually crazier than Wormold realizes. In places this book is funny, and it is full of interesting observances about human nature.
"A change will be good. When you feel unable to change your bar you have become old." (p.33)
I had not read anything by Greene before and plan to add some of his other books to my TBR list as I thoroughly enjoyed this one. This counts toward my 2016
Back to the Classics Challenge
as a "classic which includes the name of a place in the title."