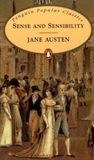 Sense and Sensibility by Jane Austen
My rating: 3 of 5 stars
I thought I had read this before, but I don't think I had. I did see the movie and had Emma Thompson in my head the whole time I was reading.
This was a good novel, but I felt like it dragged in sections and I found Marianne less than sympathetic. Elena Ferrante had an interesting article about this book in The Guardian in 2015.
For the Back to the Classics Challenge this title could count as a 19th century classic (first published 1811), a classic by a woman author, or a romance classic (it is all about who will marry whom).